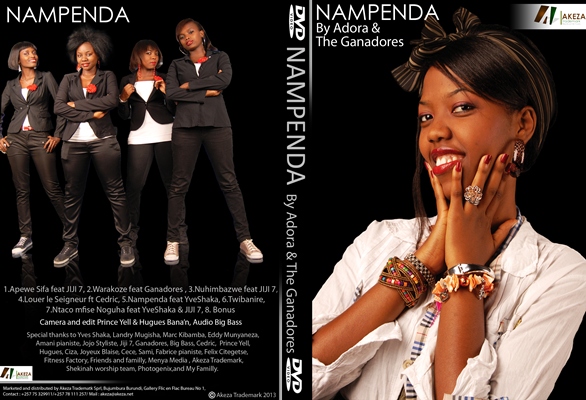 Music Video Album "Nampenda" ya Adora Uwimana yasizwe kumugaragaro
|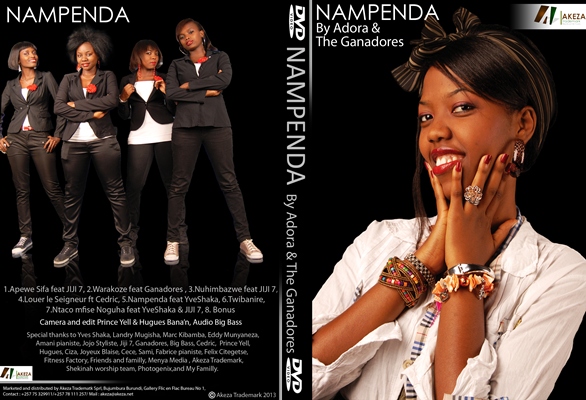 Umwe mubaririmvyi babigeme bariko baza numuvuto munini, Adora Uwimana azananye numuriro udasanzwe muri Gospel Music mugihugu c'uburundi. Adora numwigeme ariko akora ninguvu kwereka ko abigeme baginze we bashoboye aho benshi bagifise isoni canke ubwoba ko badashoboye bivanye nuburyo buke bafise, ariko Adora Uwimana avuga ko uburyo bwose ufise bwereke Imana aho nyene niho nawe akudugiriza. Adora Uwimana ageze kurunganwe rudasanzwe muri Industry ya Burundia Gospel Music mu gihugu c'Uburundi, Ari mubigeme bambere bamenyekana cane gose aho amaze no gutumirwa mumashengero atandukanye menshi yo Muburundi eka no murwanda uno muririmvyi aramaze gushikayo atumiwe kugira ateramishe abakristo bamashengero atandukanye.
Adora Uwimana ashize kumugaragaro Alubamu yiwe yise "NAMPENDA" iyo aherutse gukoresha igiteramo kugira amenyekanishe iyo album yiwe. Kuruno wa Mungu uza(Next Sunday) niho ino album ija kumugaragaro mumasoko aho hari haheze amezi umunani (8 Months) ariko yitegurira gusohoza ino album. Adora Uwimana afise umunezero ntangere cane kurino alubamu yiwe yambere kuba isohotse kandi akavuga ko vyinshi yifuza vyarashitse akanabishimira Imana cane gose kubona Imana imutera iryo teka. DVD imwe igurwa amafaranga yamarundi 10000FBU ($10).
Turasaba abanywanyi gushigikira uno mwigeme kuko Adora Uwimana numwe mubaririmvyi duhaye dufasha guteza imbere cane no gushigikira ibikorwa vyiwe. Dusaba abanywanyi kugura iyo album,
kubaba USA mushobora kutwakura kuri info@burundiangospel.com dushobora kubaha iyo DVD. kubaba muburundi naho nyene mushobora kutwakura kuri umuririmvyi@burundiangospel.com turakwerekeza uburyo ushobora kuronka iyo DVD. Muriyo DVD harimwo indirimbo ndwi (7 Music Videos), Tubibutse kandi ko muriyo Video alubamu, adora yakoreshe babatamvyi biwe "The Ganadores", ngo rero baratamvye biraca biracika, eka bibereye kuraba.
Soma vyinshi mururirimi rwikinyamazuru (English)
Next Sunday, the DVD clips of gospel singer Adora UWUMANA officially goes on sale after 8 months of hard work. Started in the month of December 2012, this DVD will have cost a lot of energy and money. But the lady is a fighter. Between disillusionment, despair and failures, she always managed to find his way. In English we say" hard work countries (hard work, it pays.) Today, Adora and her team can say that.
A high-level job
The singer was clear from the outset. She wanted a DVD where everyone plays their role according to their skills. This began with his songs in the studio. For some keys, it uses the two best pianists of the city: Mark Kibamba and Amani.
Because she has a real influence in dancehall music, she did not hesitate to appeal to those who most closely match the natural heirs of the genre in Bujumbura or Jiji 7 famous performer of the hit I'm a soldier, prominent member of the GMP group, or YveShaka whose ragga tones defy the best representatives of the Jamaican vibe. Both, in the studio as talented enough to face the camera properly contributed to the fulfillment of a dream of an artist than a good head of common mortals. Adora Jiji 7 recognizes as his constant companion when she YveShaka described as his mentor, his dad artistic.
His dancers (it is now impossible to talk about Adora not to mention his dancers) occurred in almost all the songs on the album. They are far from being an accessory that could happen. They were, for this album indispensable. They brought a touch of modernity, some creative complicity, style and appeal. For future generations, it is almost sure that they will serve as a model icon.
Josiane, his personal stylist has done more than work on the project. She is involved, she married. Days and nights, she toured the shops in the city to find the place that best scene such as song, the right accessories for this or that style, often with very limited resources match.
The realization of this DVD will be many drawn from the experience, passion and commitment of the team of cameramen and editors assigned to the project: This is Prince Yell and Hugues Bana'n house communication Akeza Trademark, which is none other than the parent company Akeza.net.
Affordable
The DVD consists of seven video clips and a video bonus "making of" will be marketed 10,000 FBU. " This award is the result of a long reflection on the purchasing power of Burundi and a desire to sell a maximum of copies" we confessed the singer.